THE DETAILS:
Location: Online
Start: 20 June, 2022 - 7:00 pm
End: 20 June, 2022 - 9:00 pm
Terms:
More info
Developing expertise: a free online course specifically tailored to support newly qualified teachers' (NQTs) experiences in Wales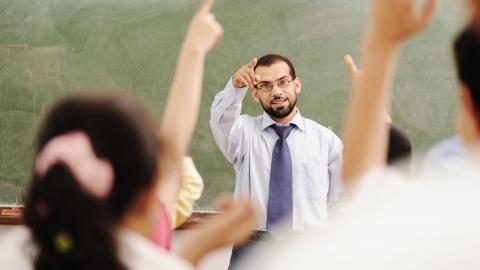 This free course provides a unique opportunity for newly qualified teachers and supply teachers in Wales (who qualified in Summer 2020 or 2021).

Are you interested in:

• participating in a high-quality research informed collaborative professional learning course
• developing your professional knowledge alongside other NQTs from all across Wales
• building networks that will help you understand practice from different perspectives
• engaging with key ideas that can support practice from research and enquiry
• becoming a more confident and resilient teacher?

This course aims to provide opportunities to develop and extend professional knowledge and deepen understanding around teaching and wider classroom contexts, as part of a national community.

Who it's for:
This course has been kindly funded by the University's Research Wales Innovation Fund Strategy (RWIF) and is therefore free and open to newly qualified teachers and supply teachers who gained qualified teacher status (QTS) in Summer 2020 or 2021.
Please note that this course is only available to those working in Wales.
About the course:
This course provides an invaluable opportunity for participants to build confidence, extend their professional knowledge and reflect on professional practice.

The course is collaborative and will be shaped in response to participants' specific needs as they embark on their first year of teaching. Course content and delivery will be focused on professional practice, and will draw on key theoretical ideas, through discussion.

The course aims to support NQT resilience and wellbeing. It will provide a safe space to develop expertise through challenging thinking and assumptions about experience and practice.

The course will bring together ideas around:

• developing and reflecting on practice (teaching, learning, assessment, working with pupils, critical reflection)
• working collaboratively (sharing ideas, seeking advice and support, working with colleagues)
• ongoing professional learning and research engagement to support practice.

The course will consist of one session per half term (term time only).

Each session will consist of approximately 3 hours of core learning to include:

• 1 hour of asynchronous pre-recorded/prepared support materials, activities and reading (to be completed in advance of the live session)
• a 2-hour live interactive teaching session at 19:00.
To find out more, and to book your place, visit our course page.

Thinking about booking? Catch up on the recent webinar reflecting on what it is to be a great teacher. From the course lead team. View