THE DETAILS:
Posted by: Educators Wales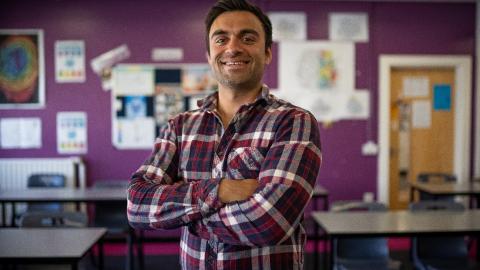 How long have you worked in the education sector? 
I began working as an Adult Tutor at the start of 2021. Previously, I was a professional football player for Bury; I signed for the team in 2010. I then went to America to play football thanks to a scholarship. When the scholarship ended, I came back to the UK and wanted to find a new purpose. 
My job as an Adult Tutor began in lockdown as I wanted to support teachers struggling with their confidence, mental health, and help those feeling overwhelmed by the pandemic.  
How did you come up with Tales To Inspire and what is the purpose behind it? 
I founded Tales To Inspire as a result of the pandemic; it was important to me to build a nurturing community for those teaching under such challenging circumstances. 
Tales To Inspire is a series of six- to eight-week programmes designed to support adult learners, teachers and teaching assistants. Everyone has their own tale to explain how they got to where they are today. I wanted to create a platform for people to talk about this and inspire others not to give up. It allows people to share their unique journey in a hope to inspire others not to give up.
I created this social enterprise so every week we can share people's stories to motivate others and show that there's nothing you can't overcome. The stories are told in a number of ways including podcasts and online.
So far it has been successful, the stories are being read in 84 different countries. The podcasts are being listened to in 35 countries around the world, and now we also run workshops.
  
What are your motivations to inspire and support people every day? 
I have quite a few motivations and they all stem from my personal experiences. One of them was being rejected from a young age and never being able to fit in. I thought football would be the best place for me to fit in and I thought that if I worked hard, I'd make it, but it never worked out. I realised I needed to create my own space and fit into that. 
I think it's important to inspire people to stay true to who they really are and encourage them not to leave their personalities at the door. 
Another motivation is my mental health, it's something I've always battled with and it's important to empower others as everyone is on their own journey.
I want to help people see their potential and make individual changes, not only to better themselves, but also their classmates, colleagues, and family.  
 
What does a normal day at work look like for you?
My role is completely flexible and changes on a daily basis depending on the demand. I spend a lot of time lesson-planning or creating projects. No day is ever the same and that's the beauty of working in education.
There's a lot of planning involved for the students, and I absolutely love delivering them. It's a great feeling when you see your work truly motivating and inspiring others.
What's the best bit about your job?
One of my favourite aspects of the job is delivering workshops for the teachers and the students. The workshops allow the students to open up and have honest conversations. It shows them that they can achieve things they never thought they could.
Another wonderful thing about the workshops is the amazing feedback the learners provide. It's amazing to hear how you have helped them, but it's great to see them reach out of their comfort zones and be more confident. I love reading through feedback as it also allows me to adapt my sessions further.
Have you ever been inspired by any young people during your work?
I meet so many inspiring students all the time and that's what I love about my job. One of my students was unsure on his career path and needed some direction in his life. Through the sessions, his confidence grew, and we discovered that he wanted to be involved in the fire service. It was really inspiring for me as he was shy when we first met and didn't know what career path he wanted to pursue. 
What would you say to anyone who wants to work in the education sector?
I would say you should definitely go for it. It's such a rewarding industry and you get to see people from all walks of life and learn about their journeys. The role is so varied, and you work with new people all the time which makes it even more interesting.