THE DETAILS:
Posted by: Educators Wales
Yusuf Ibrahim, Assistant Principal at Cardiff and Vale College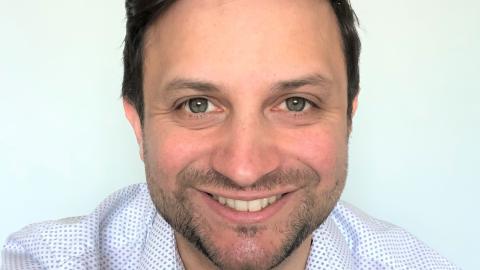 We were recently fortunate enough to have the opportunity to talk with Yusuf Ibrahim, Assistant Principal at Cardiff and Vale College and recently appointed Board Member at the National Academy for Educational Leadership. Keep reading to find out more about Yusuf's exciting career journey and his work at the NAEL!
Tell us about your career journey so far!
Raised in a family of educators, with both my father and grandfather working as teachers and my mother as a teaching assistant, I spent my early years determined not to become a teacher! I was, however, quite unsure as to which career path I should take. Although careers advice at the time was much more limited than it is today, I found myself enjoying both sports and academic subjects, which explains my choice of studying a Philosophy and Sports degree at university. Despite being initially determined not to pursue a career in teaching, when the opportunity arose to study a teaching qualification after leaving university, I thought to myself 'Why not have it under my belt?' And sure enough, I haven't looked back since! During my time studying for the PGCE, I really felt that I was thrown into the deep end in improving and developing the rounded set of skills which are vital when teaching. Soon enough, I became a Religious Studies teacher at a school in North London. Over the course of my first 7 years of teaching in London, I have no doubt that I made a number of mistakes. Nevertheless, by identifying the skills, knowledge, and tools which could help in ensuring that I learn from my errors, I was soon able to acknowledge the core skills and competencies which are pivotal in a teaching profession: being an approachable people person; emotional intelligence; and a clear focus on evidence-based decision-making.
Did you take on any wider roles within your early teaching career?
I believe it's genuinely important to appreciate education as a horizontal stream of individuals and collectives, ranging from the teaching capacity to the management of the finances to community-driven education. With this in mind, I was appointed as the Head of Social Sciences at the school, from which I then became the Head of House, working in a pastoral role to apply the wide repertoire of skills that are crucial across the horizontal plane of teaching. Through my work, I was interested in how all of the elements within a school cooperate and collaborate to make an educational organisation thrive and to ensure that students succeed both within and outside of the classroom. My role as Head of Sixth, as well as my participation in one of the first Action Research projects in the UK, shows how I am always keen to expand my experiences and widen my own skills whilst also broadening my role within an educational organisation!
So what brought you to Wales to pursue your career in education?
I had some incredible successes in Bristol, taking a sixth form at risk of closure on to instil a strong identity, achieving record breaking outcomes and value added.  But I also learnt the most here in terms of becoming an all-round high performance leader. I had a range of effective leadership tools, but was also naïve and made mistakes. I particularly remember one event that I felt was particularly disastrous! Being a perfectionist – and possibly being overly self-critical at times – I found that, despite being a creative thinker, I needed to learn how to communicate my big vision to all audiences, so they could understand the stepping stones along the route.  My time in Bristol certainly moulded me into the leader I am today and I look back at it as a time of great learning.
Looking over to Wales, I simply couldn't understand why Welsh schools and local authorities were spending so much time trying to replicate what schools across the border were doing when the reality is that the demographics and socioeconomic circumstances are very different. Despite the lagging numeracy and literacy rates, there was absolutely no reason why Wales couldn't have one of the best education systems in the world, and I really wanted to be a part of that change. With that in mind, I was soon fortunate enough to start working at Cardiff and Vale College. I should also probably note that I'm quite a fan of the accent, so making the move was an easy decision to make!
What professional learning opportunities have supported you the most in your career?
Above all, I've had some brilliant line managers which have taught me the importance of being open to feedback and advice: at the end of the day, everyone has different strengths and weaknesses and we need to be more comfortable with these differing holistic personality traits and, also, to be comfortable with discussing these with others as objectively as possible and within a core set of professional values. Although it's not an excuse for poor performance, I've learnt the importance of appreciating the concept that we're on a spectrum of strengths. Take Usain Bolt as an example: I wouldn't challenge him to a 100m race, yet I'm sure there are some areas in which my skills would have the advantage. Being comfortable with our weaknesses, or, more broadly, being comfortable with missing out on some skill development opportunities is crucial both within and beyond our teaching. Although I'd always consider myself to be a 'yes man', it's important to appreciate that some opportunities will fizzle out – whether that be as a result of a lack of resources, time, or just by being comfortable with our weaknesses. Many of these skills are, of course, important when considering the role of a teacher as a leader, but a social construct of being a leader seems to have lent itself to the idea that leaders are more valuable than those being led. Although everyone has the ability within them to be a leader, some do, of course, already have the characteristics which will make them better leaders. This is exactly why managing talent is crucial in ensuring that people do not feel devalued by not taking on a leadership role: we can't have organisations full of leaders in the same areas. In this sense, it's all about counter-balancing our strong individualist society with the value that collectivism brings.
What improvements can be made to make education more appealing as a career pathway?
As we've all experienced formal education at some point in our lives, we all have our preconceptions as to what frames education. In fact, some of the greatest biases exist in the classroom; we need to counteract these biases in order to highlight a real understanding of education as a positive, expansive career option. It needs to be made clear that there are a wide range of careers across the diverse horizontal plane of education: teaching is so much more than just marking papers! So to any young person considering a career in education, ask yourself: 'what type of educator do I want to be?' and 'what careers within education are compatible with my skill set?' Again, always remember that education, although composed of vertical streams of subjects (history, mathematics, science and so forth), also requires a horizontal development of skills through individuals who may be experts in their subject-specific field but also have strong competences in, for example, marketing, finance, or media work. In any case, if you like working in an innovative, problem solving-based, and dynamic environment, then there's a career in education for you. The same can be said for educators looking to progress to a leadership position, yet, of course, the need to be a people-person who commands change and positively receives and constructs feedback is even more crucial in these circumstances.
Tell us more about your role as a board member at NAEL!
I was delighted to be appointed as a board member after a competitive process to be selected! I was particularly inspired by the unified approach taken with regards to the middle tier of leadership in Wales. Further, I was especially interested in combating the challenge of cross-sector collaboration.  All sectors can become so immersed and specialised in their own fields that it becomes difficult to lift your head above parapet and remember that we are part of one educational echo-system.  HE, FE, Schools, Industry… They all have a role to play in communicating more effectively, and I see the NAEL as the perfect body to facilitate this change through a strong focus on systems leadership. More specifically, I enjoy the scope and network-based initiatives of the programme, especially in its aim to increase the diversity of representation across leadership positions in Wales. I look forward to seeing what the future holds for the Academy