THE DETAILS:
Posted by: Educators Wales
Your options for your Post-Graduate Certificate in Education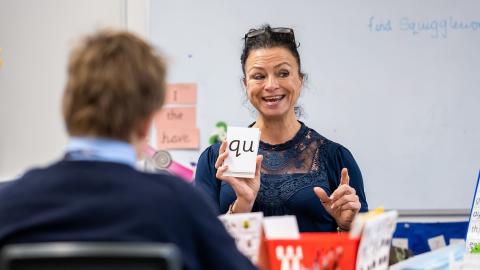 Description: Hear from different students currently studying their PGCEs about the routes they have taken and their experiences with their Postgraduate Certificate in Education.
Teaching in Wales
If you wish to qualify as a teacher in Wales then you need to gain Qualified Teacher Status (QTS) through Initial Teacher Education (ITE). For postgraduates, the qualification you need is a Postgraduate Certification in Education otherwise known as a PGCE.
For more information check out our teacher's page.
The Available Routes
There are three ways you can gain your PGCE:
Full-Time Route
The full-time route is offered by several different Initial Teacher Education partnerships across Wales including:
Aberystwyth University

Cardiff Metropolitan University

Prifysgol Bangor University

Swansea University

University of South Wales

University of Wales Trinity Saint David (UWTSD)
You can study both primary and secondary level and the full-time postgraduate route will take a year to complete, the undergraduate course is available for primary level and takes three years to complete.
Niamh, Third Year Student, Full-Time Route, The University of South Wales
The University of South Wales' Initial Teaching Education with QTS allows aspiring teachers to build connections with experienced teachers and lecturers that support and motivate students to develop and reach the standards needed to become effective teachers. All lectures are prepared and planned carefully to suit the needs of the student teachers based on feedback and upcoming assignments.
While all lecturers are approachable and supportive, a professional network is built between peers creating a friendly environment to offer and ask for help where it is needed. USW has allowed me to develop myself on a professional and personal level. As much as I look forward to graduating and becoming the teacher I aspire to be, I will always be thankful for my experiences on the ITE course. 
Part-Time Route
The part-time route is available from the Open University and is available for primary and secondary level and will take two years to complete. An honours degree is needed for this route.
The part-time route is ideal for candidates who need to work around a current job, childcare, or other commitments.
Catrin Williams, Part-Time PGCE, Primary Level, The Open University
I've wanted to be a teacher since I was in primary school, it was always the plan, but I went on to study for a History degree and began a career in estate agency. I wanted to do a PGCE course but I didn't have the chance to go back to university and didn't know how it was would be possible with two young children because childcare costs are extortionate. I felt that it was just too expensive to take a year out and go to university.
When we moved to Rhuddlan in North Wales, I received a leaflet through the door from The Open University in Wales promoting their PGCE course. I decided to take the part-time PGCE route to become a primary school teacher as it meant I could study at my own pace, in the evenings, and go on placements into school two or three days a week. It fits in perfectly with our family situation, there is no other possible way that I would have been able to do the PGCE. It feels great to be working towards a dream that I've had for such a long time.
Salaried Route
The salaried route is ideal for candidates who are already working at a school as a learning support worker or in a non-teaching role. This route is available through the Open University and you can study around your existing school duties for which you will be paid a salary.
This route will take two years to complete the PGCE and gain qualified teacher status. This employment-based route is available for primary and secondary levels.
Adam Marsden, Salaried PGCE, Primary Level, The Open University
I was working as a TA/PPA cover in a primary school where the headteacher saw potential in me and wanted to support me in my career to becoming a teacher. I'd always wanted to go into teaching, but I'd been putting it off for a while as I was running a coaching business alongside my school work at the time. The primary salaried PGCE route from The Open University in Wales offered the best of both worlds as I could work at the school and study in the evenings. The online seminars and modules allowed me to be flexible and fit studying around my school days.
Having previous experience working with children and having my own business allowed me to bring confidence to my role as a teacher. The PGCE course provided me with rich practical in-school experience and helped me to understand the theory of teaching. I personally think that a two-year PGCE gives you time to really understand the theory and put it into practice. The support from the OU has been outstanding. It was hard work but my PGCE tutor really kept me going and was always available for a quick video call or email when I needed them.
Michael Rees, Salaried PGCE, Welsh Speaker, Secondary Level Science Focus, The Open University
Becoming a teacher has been an ambition of mine for a while. I was working as a science technician in a school and watching my colleagues teaching the children really inspired me to study the PGCE and achieve my dream of becoming a secondary science teacher. Science has always been a passion of mine and I wanted the opportunity to inspire the next generation.
I chose to study the Science PGCE with The Open University in Wales via their secondary salaried route because it allowed me to continue working in the school alongside my studies which isn't something that any other ITE providers offer. I really appreciated the flexibility of the course and being able to study across two years allowed me to achieve everything to a slightly higher standard. The support from The OU was great and the regular contact with my tutor made me feel like I was never alone. Since studying the PGCE, my confidence has developed and now I'm a fully qualified teacher, that's something I'm really proud of.
For more information on PGCE routes visit our teacher's webpage or contact our team info@educatorswales.co.uk