THE DETAILS:
Posted by: Educators Wales
Welsh Teacher at Ysgol Gyfun Cwm Rhondda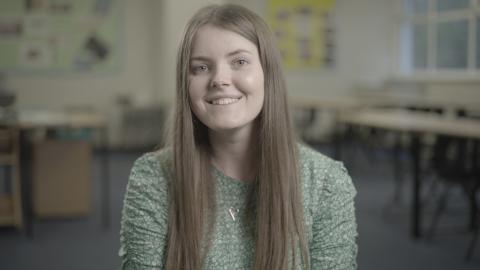 How long have you worked in education? 
I've worked in education since 2017. I graduated from Aberystwyth University with a degree in Welsh and jumped straight into teaching by completing the Graduate Teacher Programme (GTP) at Ysgol Cwm Rhondda. I'm a former pupil of the school, so I was taught here until Year 13 before leaving for university. 

Did you always know you wanted to be a teacher? 
When I was a student, I knew pretty early on that I wanted to teach, because I saw how my teachers made a difference in their students' lives, and how they impacted my life too. There were never any dull lessons – only fun, purposeful ones. My teachers inspired me when they taught in front of the classroom, and I could see the passion they had for their subjects and that's what drew me into wanting to work in education. I wanted to inspire people, like they'd inspired me. 

What's it like to work alongside those teachers now? 
Each and every one of the teachers were so welcoming when I first started, even those who hadn't taught me when I was a pupil at the school. Straight away I was treated like a teacher, which was great. I was worried about what the transition from pupil to teacher would be like, but it was so easy. The atmosphere is still the same as when I was a pupil, and the support is still there. It's fantastic. Now, I'm just on the other side of it! 

Do your pupils know that you are a former pupil of the school? 
My students definitely know that I am an ex-pupil – that's the first thing I told them! I think they can understand me better and connect with me as a teacher because we have something in common.
They often ask me which teachers taught me when I was at school and what subjects I studied at GCSEs – that's what they like to know. It gives us a shared experience. We all understand each other then. We come from the same place, we're like a family.

What motivates you to get out of bed every day to go to work? 
The best bit about the job is watching the pupils succeed. Often you can teach something, and the pupil might not understand, which is completely natural – but when you can see that the work you've set has gone down well and the pupils have made strides and understood what you've taught them - It's worth so much because it means you've done a good job and succeeded yourself.

What do you consider your biggest achievement as a teacher? 
During my first parents evening on the job, I received praise and thanks from the parents of one of my year seven pupils. In my lessons, I'd incorporated Welsh music and popular culture, which inspired the pupil to immerse themselves with Welsh culture in all aspects of their life, through watching S4C, listening to Welsh bands and getting involved with the Eisteddfod. It was a great feeling to receive such compliments, especially so early on in my career. Now that pupil has blossomed, and they have such a passion and interest in Welsh as a subject. That moment is definitely a highlight of my career.
It's great because, when I was at school, I was also inspired by my Welsh teacher to get involved with extra-curricular activities like the Eisteddfod, and the fact that I've created the same impact on another pupil is an indescribable feeling. I can give the same experiences that I had in school to the next generation of pupils at Ysgol Gyfun Cwm Rhondda – I love it! 

What is the biggest challenge of the job? 
For me, the biggest challenge is timing. I'm teaching a full timetable this year so finding time to plan lessons, mark work and get it back to pupils can be tricky.
One positive that came out of having to work from home during COVID-19, was that it gave me more time to plan my lessons and prepare for the year ahead. I had time to plan meticulously and I really feel more confident as a result.
 
What would you say to someone who's thinking about getting a job in education?
If that's your passion, then do it. I do think that people need to consider what teaching entails, because it is a lot more than showing up in front of the classroom, but if you're passionate about educating young people and making a difference in their lives, then go for it! It's the best thing I ever did.