THE DETAILS:
Posted by: Educators Wales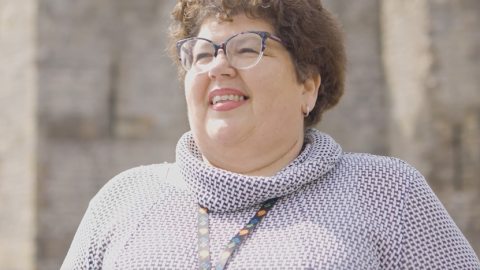 How long have you worked in the Education sector?
I spent two years working for a youth organisation and one year in a bank, other than that, I have spent my life in education. I have worked in various sectors in education including primary schools; now I work at the ESOL department in Coleg Menai.

What inspired you to get into education?
I believe education is an asset for anybody to have; it's important for so many people across the world. Working in an educational environment is so beneficial, even amongst different age groups. 
The education sector is one where you will meet people from all walks of life and gain knowledge, different skillsets, and experience. 

What's the best thing about being a administrative assistant?
There are many great aspects of the job, but generally, I enjoy talking to people and helping them solve their problems. Sometimes that is done by sending an email or picking up the phone and I find that really rewarding.

What do you consider as one of your biggest achievements on the job?
The college welcomes lots of refugees from Ukraine, Syria and Saudi Arabia to enrol on adult courses. It's not just the education that's important but welcoming the refugees because they've been through a terrible time. I can't imagine even spending a day in their shoes.
There are refugees from all ages and backgrounds, and I have met elderly people who can't speak a word of English and they are tired and traumatised. But they work hard with us so they can learn the language and live a good life in this country. 
However, it's important to be sensitive because much of what they have gone through is still very raw. You need to approach them with kindness and compassion as sometimes it can be tough to get them to open up. Once you have built that relationship, it's really inspiring watching them succeed in a new environment.

Have you ever been inspired one of your pupils?
I've been inspired by many young people, especially as so many have interesting stories. Many of our students, particularly from Africa, have had to go through incredible journeys to get here. A lot of them have travelled alone because they have lost family members on the way, or in their home countries.
These students massively inspire me because they've been put in a position where they're fighting for their lives and all they want is a good education. It isn't their fault for being in that position and I don't know if I could survive what they have been through. That is what inspires me to help them.

How important is your role at the college?
I work through a lot of the administrative side of teaching and spend a lot of time going through paperwork. We are the first point of contact for any student enquiries while also ensuring we are supporting tutors in their roles. 
Some of the refugees attending the college have different skillsets and levels of English language. We hold assessments with them which are very important as these ensure what classes they will be put in.

What inspires you to work hard every day and help others achieve their goals?
I work with a superb group of people; we all work together as a team despite everyone having their own work to complete. There are so many great people in every department at the college. Following the pandemic, I enjoyed coming back to work and connecting with new and old colleagues.

What advice would you have for anyone looking to go into education?
It is such a changing industry and the job you do on a day-to-day basis varies, which makes it exciting. You could be working with people from different ages or backgrounds, the learning doesn't stop.
To come and work in that environment is very rewarding and something, I would encourage anyone to get involved in.