THE DETAILS:
Posted by: Educators Wales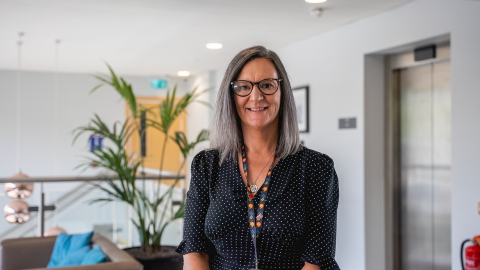 When did you join the education workforce?
I've been working in HWB Dinbych for seven years. In my previous job, going into schools and colleges was a big part of my role. I always enjoyed teaching, so my friend suggested: "Well, why not learn to become a tutor?" So, that's what I did! I went back to college to become an educator .
What inspires you every day?
The students are an inspiration to me, I get a lot back from helping them to learn and supporting their journey to achieve qualifications. Helping them get a new job, overcome a fear or to try something new is what inspires me to be the best tutor possible.
What's the best thing about teaching?
For me, the best thing about being an educator is the feeling that I'm making a difference and the feeling that I'm doing something to help the students. We are here as someone they can trust, to answer any questions they have and to help them with anything, really. If they are going through a difficult time in their lives, such as a financial difficulty, we can signpost them to access the help they need.
My co-workers are also amongst the best things about teaching. We are all here for one thing, which is to help the community, and we achieve this as a team. Knowing that we are important to the students' lives and the fact that they look forward to coming into college every week makes the paperwork worthwhile!
What is your biggest achievement?
We have some students who only come in for two hours a week, so it's difficult sometimes to get to know them well and it takes a little more time to gain their trust. When that trust is gained successfully, it's a big achievement for me. It means we can fully help and support them throughout their time with us. 
How important is your role?
I hope it's very important! The team and I work together very well, and I think with all of our skills combined we create the best environment for learning lifelong skills. 
Education allows individuals to realise their potential, potential that they would not have realised if they hadn't have come here to the college!
What would your advice be to someone interested in becoming a Curriculum Coordinator?
It's a challenge, but it is interesting and varies every week! To be honest, I don't see myself as a Curriculum Coordinator, I see myself as someone who is there to help and support students. I am here to help the students reach their goals, whether it's to carry on with their education or to get a new job. 
I enjoy seeing the students learning and that lightbulb moment when something clicks and they learn something new, it's the best feeling and I'm very proud of my role in that.