THE DETAILS:
Posted by: Educators Wales
What is Safeguarding Blog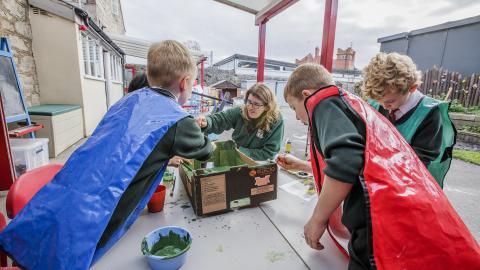 In this blog, we discuss what safeguarding is, the role child protection plays in safeguarding and important information those within the education sector need to know about their safeguarding responsibilities.
If you work within the education sector it is important you understand your duties to protect learners and keep them safe from harm. While the concept of safeguarding is very serious, we don't want you to feel overwhelmed by the different categories of safeguarding.  We hope this blog will concisely explain safeguarding, different safeguarding issues and the benefits of early intervention.
What is Safeguarding?
Welsh Government guidance Keeping Learners Safe (KLS) has this definition in their guidance; "Safeguarding means protecting children from harm, abuse and neglect." This includes:
Protecting children from abuse and maltreatment

Preventing harm to children's health or development

Ensuring children grow up with the provision of safe and effective care

Taking action to enable all children and young people to have the best outcomes
The Difference between Child Protection and Safeguarding
Charity organisation NSPCC explains that child protection falls under the umbrella term of safeguarding.
Child protection focuses on "protecting individual children identified as suffering or likely to suffer significant harm. This includes child protection procedures which detail how to respond to concerns about a child."
While safeguarding is "the action that is taken to promote the welfare of children and protect them from harm."
Your Organisations Duty
It is vital that all establishments and organisations that work directly with or come into contact with children, young people and vulnerable adults have thorough safeguarding policies and procedures. These policies and procedures must ensure that every individual has the right to equal protection from harm regardless of their age, disability, gender, race, religion, sex or sexual orientation.
Establishing robust safeguarding policies and procedures means that the children and young people within your care are kept safe from harm and from other adults or children who may pose a risk to them. Organisations that should have safeguarding policies include:
Schools

Other childcare facilities

Hospitals

Sports clubs

Voluntary organisations and clubs

Community organisations and clubs

Faith groups

Private sector providers
Early Help / Early Intervention
An important concept in safeguarding is the idea of early help or early intervention in which children and young people are offered support before a crisis point is reached with their well-being and general safety.
The Early Intervention Foundation defines early intervention as "identifying and providing effective early support to children and young people who are at risk of poor outcomes."
Examples of early intervention can include:
School-based programmes to improve children's social and emotional skills

Government support programmes for disadvantaged students such as free school meals

Mentoring schemes for young people vulnerable to involvement in crime
Early intervention also comes in the form of organisations having a proactive attitude to safeguarding and preventing future problems from occurring rather than just reacting when safeguarding concerns occur. This includes addressing seemingly small issues before they develop into massive safeguarding problems. For example:
If a boy has a black eye, this could be an accident or a sign of abuse at home

If a child comes to school without a coat in winter, they could be forgetful, or this could be a sign that

the

child is being neglected

A young girl starts to wear

expensive-looking

jewellery, may have celebrated a birthday or could be the victim of grooming

A group of children teasing a new student can develop into hurtful bullying

Boys who pull the hair of girls or try to look up their skirts can lead to problems of child-on-child abuse or toxic masculinity
Another strand of early intervention also involves educating students on certain topics to prevent certain safeguarding concerns such as:
Educating children on online safety to avoid grooming and online

stranger

danger

Educating children and young people on relationships and sex education to change attitudes toward consent, peer-pressure, victim blaming and toxic masculinity

Educating children on the human rights act to prevent discrimination towards individuals
Types of Safeguarding Concerns
There are many types of safeguarding concerns to look out for within the education sector. This list is by no means conclusive but offers an idea of different safeguarding issues and concerns that children and young people face today.
Abuse including physical, emotional, mental, sexual and neglect

Bullying including online and in person

Peer-on-peer or child-on-child abuse including peer-pressure

Mental health and wellbeing concerns such as depression, stress, anxiety

Online safety

Grooming

Maltreatment

Risky sexual behaviour

Stranger danger

Eating disorders

Learning difficulties such as ADHD, Autism and Dyslexia

Self-harm

Suicide

Gang-related violence

Drug runners and county lines

Allegations of assault

Allegations against members of staff

Low-level concerns about members of staff

Substance abuse

Criminal sexual exploitation CSE

Criminal child exploitation CCE
Safeguarding in Wales
Each nation in the United Kingdom will have slightly different safeguarding laws and legislations. In Wales, the government legislation Keeping Learners Safe, lays out the safeguarding and child protection laws that must be followed by all schools, colleges, governing bodies and local authorities in Wales. The guidance divides into eight sections:
About Safeguarding in Wales

Safeguarding Roles and Responsibilities

Responding to Concerns

Safeguarding in specific circumstances

 Domestic abuse, gender-based violence, sexual violence and harmful cultural practices

Keeping Children Safe Online

Community Cohesion

Safer Staff Recruitment Practice
The guidance sets out things that schools and colleges:
 Must do because it's the law; and,
Should do because it's part of this guidance.
It also gives examples of best practice that all establishments can follow.
How You Can Keep Children and Young People Safe
The main responsibility you have as an educator is to report any safeguarding concerns you have to the designated safeguarding person in your school or college. Each establishment will have its own processes and systems in place to record, report and manage all types of safeguarding concerns.
As an educator, you will often spend more time around children and young people than their parents do. You are well placed to notice all manners of concerns and issues. Early intervention and helping these students rely on your ability to take note of any concerns and report them.
Safeguarding Training
This blog is in no way a substitute for statutory safeguarding training. In Wales, safeguarding training is mandatory for most staff working in with children or young people in an education setting and early years and childcare, as well as other roles in the public and voluntary sectors.